The ever increasing number of small commercial vans and people mover type vehicles available on the Australian market is widening the choice in both suitability and pricing for people who may be looking to purchase a vehicle to be modified to allow for wheelchair access.
We at TRAMANCO pride ourselves on always being up to date with new arrivals to see if any meet the criteria for wheelchair access, and people may be surprised to know just how many of these vans and people movers are in fact suitable for different types of installations. *
The Hyundai Imax and ILoad are two such vehicles.
We recently carried out an assessment on two NEW BRAUN wheelchair loaders, the CL995IBXT3052-2 and the VL995IB2740-2, for their suitability for installations into the above vehicles. These tests were a great success and we can now add the ILoad Van, the Imax Van and the Imax "Shuttle" People Mover to the list of suitable vehicles.
For more information on these loaders and any others in the BRAUN range contact our sales department direct on 3892 2311 or via email through this website.
For enquiries outside South East Queensland; please contact Tramanco and we will put you in touch with one of our Australasian dealers who have been supplied with the results of these tests and advised of the specifications of the loaders, so they are well informed and will be happy to help with your enquiries.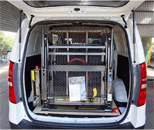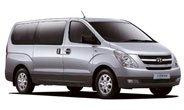 Hyundai ILoad         Hyundai Imax
* Contact Tramanco if you would like to discuss other vehicles that may also be suitable for wheelchair access modifications.