Kwik-Chek – Dual axle group electronic on-board scales
Tramanco's Kwik-Chek® dual or single axle group electronic on-board truck and trailer scale systems offer convenience, practicality, productivity and profitability, letting you focus on what's important; total control of the job at hand.
"Kwik and Simple"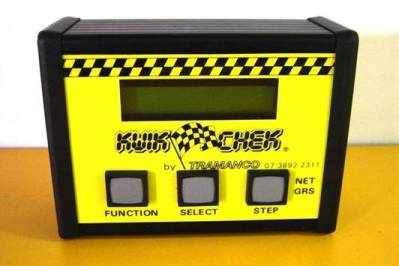 The Kwik-Chek cab mounted display is an affordable way to obtain the weights of single or dual axle groups. Kwik-Chek is an economical, high performance on board electronic scale for anyone concerned about, productivity and profitability. Kwik-Chek lets you focus on what's important; total control of the job at hand.
Kwik-Chek monitors air suspensions, steer axles, hydraulics and load cell systems. Weights appear in real time and can be displayed in Nett or Gross with the push of a button.
Kwik-Chek is an investment in your business, providing convenience and affordability with a fast and easy way to position vehicle loads; reducing under loading and incorrect loadings.

Kwik-Chek Typical Install Configuration
SPECIFICATIONS
12/24V DC power supply
Ignition activated display
One or two axle groups
Used with different weight sensors in any combination:

Air or Hydraulic Pressure Transducers
Front Axle Transducers
Load Cells
OPERATOR DISPLAY
Dual line LCD backlit display for day/night operation
Weights displayed in 10,20, or 50 Kg increments
load monitoring and Prof of Delivery
Time and Date records
Overload warnings
Nett / Gross weights
Two set-points
Axle groups plus total weights
All weight on one screen
User friendly, compact, push button operation
Digital calibration
Password Protection
OPTIONS
Improved profitability
Reduced paper work
Minimise under loading
Improved productivity
Assist with regulatory compliance
Reduce chain of responsibility exposure
________________________________________________________________
Downloads

 Kwik-Chek Brochure
For more information or Product Manuals please contact Tramanco.