This is the first of our news bulletins which will be appearing on our website to keep you up to date with company news along with new products.
We began the new year in early January with extremely busy phone and email enquiries and orders – thanks to all of you! This was a fantastic start to the year and very different from this time last year!!
At the end of January we hosted two of the senior BRAUN Marketing Executives from the U.S.A. as well as a large number of our dealers from around Australia, New Zealand and Singapore, for a two day conference here in Brisbane.
The conference was used to introduce the Type-2 Braun Wheelchair Lift models, which have many new features and benefits whilst retaining the tried and tested Braun reliability. The new models were demonstrated, discussed at length and reviewed with a number of ideas from our visiting dealers taken back to the Braun design and production team.
All in all the conference was extremely successful. Thanks to everyone who attended for their comments and I am sure we will all profit from your valuable input.
We will keep you advised on the release dates of the Type-2 models.
We have now received our first shipment of the new Q'STRAINT(ER) and (ER4) Electric Retractors, all of which have been sold.
The good news is that there are more on the way.
The two models are:
The Q5-6210/11-ER with a 2.5 metre long belt and the Q5-6210/11-ER 4 which has a 4 metre long belt.
Both feature:
a single bolt-on application
a click-on single plug 12 Volt DC electrical connection
durable Zinc plated casing
minimum Tensile strength of 1,500kg which exceeds existing industry standards by 20%, and
have undergone a 50,000 Cycle Testing Programme, without failure.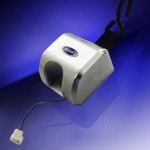 Q5-6210/11-ER
Speaking of Q'Straint, the Q8-1055-QM QRT Training Kits are growing in popularity with Maxi Taxi Operational Trainers, Community Centres, Day Respite Transport Providers as well as Individuals. Each kit consists of a QRT Max Training DVD, Emergency Belt Cutter, Webbing Loop, 2 x QRT User Instructions, 1 x Lesson Plan for trainers and 3 x Work Books for trainees. All of which is enclosed in a durable, attractive plastic open out presentation package.
Please contact our sales staff to place an order.
Watch this space for our next Edition, until then regards from all of us at Team Tramanco.